Man, I had a good vibe with that girl last night!"
"I dunno, I don't think we had a good vibe going…"
What exactly is vibe and how important is it? Before I came to Charisma Arts I had never encountered the word vibe. Though I didn't know the word, I was "vibing" all the time with people. Loosely defined, it's the sense of emotional attachment(or detachment) that a person displays to someone, an aura per se. If I have a warm friendly vibe with someone, people will feel more at ease with me. Likewise, if I'm walking around people like I'm Jack the Lecher, I will exude a creepy-guy vibe.
Having a good vibe is important because people base all their opinions on you from their first impressions(ie: first 30 seconds). To discount the importance of vibe in an interaction is to set yourself up for failure. That being said, there is no "right way" to vibe. It is something that comes from your own personal persona, character, and personality. My way of vibing with someone may be different that hobo down on the street corner. The importance is that you're congruent with who you are as an individual, comfortable with what you are saying, and relaxing and having fun. You can only control your own vibe, so why not have fun? Vibing should come easy. Though there is no right way to vibe, there are particular steps one can take in "changing" the vibe. In Charisma Arts Methodology (if you want to call it that), there are three vibe states to any interaction.
1) Platonic
2) Personal
3) Sexual
These vibe states are necessary to escalate and lead an interaction forward. If you don't lead a woman through these states, the interaction will become stale and flat, like my "Big K" Citrus Drop that I left out for too long. That's disgusting. A relationship, like a drink, only tastes good if it is constantly changing. Bubbling and fizzy if you will.
Platonic
A platonic conversation is the first step of escalation. You are changing the interaction from a stranger to someone who just went up to talk to her. Most guys have no problem talking in a platonic way. A Platonic is usually about things and not about the person in general.
Some tips on opening with a good vibe:
-Have good body language (Don't fidget, have good eye contact, stand up straight and SMILE!)
-Don't be afraid of coming close to someone. If you are reaching far to touch someone's hand or shoulder, you're too far out.
-Don't be afraid to commit yourself. You need to be committed to the person you want to talk to. Lean in slightly if you are comfortable with that. Touch them. Be that happy friendly person who's having fun in his own skin.
An example of a platonic vibe I had recently with a girl at the gym:
Me: Hey, what's up? [Smile, open body language, leaned in] Her: Not much, just working out.
Me: [Notices her weight stack] Wow, how do you do so much weight? I don't even know how to operate that machine!
Her: [laughs] Well it's easy…[goes off on machine jargon, teaching me the machine]
Personal
People can talk about things for a ridiculously long time. Thirty freaking seconds. After that, the conversation sputters, stalls, then dies. Like my old spyware infested computer. Why? Because there's too much – err, because there's nothing to talk about anymore. You're talking about things. People are interested in only two things: themselves, and people who are like themselves. So make things personal.
In order to escalate to the next vibe state, you need to find justification for taking it further. If you escalate without a legitimate reason, she will be confused and be instantly on her guard. She needs to put some effort into the exchange in order for you to genuinely show interest. That is how you escalate. It's like when some gives you a hundred dollars. You might take the hundred dollars, but you would be suspicious of the motives. But if someone said, I gave you a hundred dollars because some guy on the street gave me $5000 dollars to distribute to people. You still may be suspicious(damn this post Big Brother World) but at least you have some indication why this is happening. It makes a whole lot of more sense to you then random charity. The same goes with escalating to personal.
Follow up to previous interaction:
Me: How often do you go to the gym?
Her: I try to go every day.
Me: Wow, every day? I like how you're so dedicated. I have to be pushed to go. What's your name?
(This was kinda sloppy escalation on my part, but hey, imperfection is perfection).
When you get to the personal vibe be careful not to stay too long. If you do, she will wonder where the interaction is heading. Once you get to the personal, think about ways you can escalate and transition to the final stage, sexual.
***NOTE*** And if you would like to get access to more state of the art strategies for improving your conversations, your dating, and the quality of your very LIFE for that matter..
Then I'd like to share them with you HERE
Onward…
Sexual
This is the final step in an interaction. Having a sexual vibe does not necessary entail sex. It just lets her know that you are a sexual individual and you want more out of an interaction. It makes your intentions clear. The staple of the sexual vibe is the SOI. SOI stands for statement of intention. It's like a contract. "This is what I want from the interaction, and here's where you sign." There is no gray area. It's make or break time.
An SOI is comprised of 3 parts.
"I, you, sexy." Basically — I like you because of something unique about you turns me on and I find that really sexy.
You need to base your SOI around something you find unique about her. Something that is genuinely attractive about her. When you SOI, you will not be put in LJBF zone ever. Women don't put men into the zone, we do it by not escalating. She doesn't know where we want to go with the interaction so she assumes we aren't interested and leaves. So don't be afraid to SOI and make your intentions clear.
Here's an interaction that I just had recently. I SOIed and it lead to a date.
Me: Hey, you know there's something about you that I find extremely sexy. I don't know what it is, but I'm curious to find out more. I'd like to hang out with you some time.
(This wasn't the best SOI again, because I didn't specify what I found attractive about her or where I wanted to hang out. But I rectified it by following up.)
After the SOI, I followed up and set up a date. More on how that went later.
I hope these pointers on vibing were informative. If not, complain to D and I'll get a paycut to negative one million.
:]
- 4nim4ted
Ahh, vibe. The mysterious thing that everybody wants.
P.S. Want more free tips about what I've talked about today? About improving your confidence, approaching women, creating attraction, and more? Make sure you get your secrets, ebooks, and email updates by signing up for my newsletter below NOW. Remember, it only takes 60 seconds to learn more about meeting and dating women, so do it. Sign up below.
Free Audiobook MP3 Download!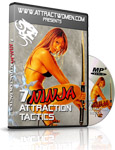 7 Ninja Attraction Tactics
- How To Attract Women With Stealth Strategies
Sneak past her defenses and get the girl - with no resistance or rejection.
Just enter your email below

and get your 7 Ninja Attraction Tactics Audiobook MP3...



To More Dating Success,

Carlos Xuma
Win With Women