Satisfaction Guarantee
If you're not completely satisfied with the program, esend me a quick email within 90 days for a full refund... No Fine Print. No hassle..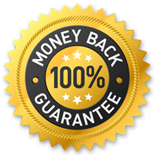 Security Guarantee
Your order will be processed by a trusted, secure server, which uses advanced 128-bit encrypted SSL server.

Privacy Guarantee
We promise to never disclose any of your personal information.
Support Guarantee
For all questions don't hesitate to contact our support; we will be pleased to assist at any time.
Address:
PO Box 5845
Salem, OR 97304