Want To Meet More Women Without Much Effort TODAY?


You're about to find out how my Dating Tips For Guys newsletter GIVES YOU:

Confidence... and a life without insecurities that limit your dating success and your social success. Learn how to make your environment a product of YOU instead of you being a product of your environment and the women will almost fall into your lap...



A simple technique to PERMANENTLY get rid of your fear of approaching women, your fear of rejection, year fear of failure... and more. Women are not "the enemy", hell, you are often your own worst enemy in the dating game! Learn how to get out of your own way: meeting women can be really easy once you understand how you made dating more difficult for yourself than it could be...



How to create attraction: why women want you to lead them, why they WANT to hear you say "NO", why bad boys are so attractive, why there's a difference between what a woman SAYS she wants and what she's biologically programmed to be attracted to deep down. Unlock the secrets to female psychology for yourself and you'll get ANY woman you want...



Exactly what to say to women to have success. There's a very high chance that you're thinking too much about what to say. Plus, you're about to find out why talking to women to create sexual tension is VERY DIFFERENT from talking to women to socialize...



An understanding of why women test men.Here's why this is important: if you know how a woman tests you, you could be sleeping with her on the same day you meet her because you passed all her tests before she could even begin a damn test!



First dates with a happy ending. Learn how to ask a woman out and almost always hear a "YES let's go!" and how to get physical with a woman on a first date although women are programmed NOT to have sex with you on a first date!



And much, much more...

These secrets you're about to discover are ONLY for you if you think you can handle the truth about the dating game. They're only for you if you dare to have a good look at yourself in the mirror and to improve what needs improving.

If you think you can handle that, then I highly recommend you sign up for my daily Dating Tips For Guys newsletter below. It only takes a minute of your time to fill in your information below to get the secrets I've promised you... so do it now: sign up!

WAIT - It Gets Better... Because If You Sign Up TODAY ONLY? You Will Get:

1) A 7-Day Email Course that gives you all the secrets and benefits I have just mentioned above and more

2) TWO free ebooks about getting over your insecurities so you can meet more women, the new rules of the dating game and... you just have to read these ebooks for yourself to find out the rest!

3) Email updates of new stuff on the blog: I write new blog posts with free dating tips for you AT LEAST once a week. Getting email updates means you will always be the first to know when you can learn more about meeting and dating women FOR FREE

Make sure you get your secrets, ebooks, and email updates by signing up for my newsletter below NOW. Remember, it only takes 60 seconds to learn more about meeting and dating women, so do it. Sign up below.
Free Audiobook MP3 Download!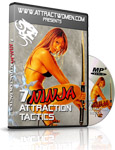 7 Ninja Attraction Tactics
- How To Attract Women With Stealth Strategies
Sneak past her defenses and get the girl - with no resistance or rejection.
Just enter your email below

and get your 7 Ninja Attraction Tactics Audiobook MP3...



To More Dating Success,

Carlos Xuma
Win With Women