As far back as I remember I have been fascinated by Giacomo Casanova and his history of seduction. But what made Casanova so seductive? Let's find out!
Women everywhere giggle at the sound of Casanova's name. And men? Men everywhere call him gay, hate him or ignore him… mostly out of jealousy that they do their best to hide. But why does Casanova, the 18th century seducer still affect people to this very day?
Short answer: no one has played the dating game as well as he did before him… OR after him. But let me first introduce him to you so you know what he looked like: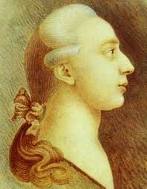 Looks like a spoiled rich snob with fake hair doesn't he? Yet still, in his day? Giacomo Casanova attracted hundreds of women from pretty much every country in Europe. Hell, he was so good that even today you immediately think of 2 words when you hear Casanova: romantic + womanizer.
Needless to say, you could learn a whole bunch of stuff from the world's greatest seducer. I have been studying him for years now. And I think it's about time that I share what I've learned, right?
Casanova's First Secret of Seduction:
…