Having Game: Attracting Women Your Way
Having game is being a man who successfully meets and dates women, but how can you become one? How can you start having game? Find out!
Well, first off, having game is context sensitive.
And if the situation in which your "gaming" a girl or a group of girls is also context sensitive, then shouldn't the "player" be context sensitive as well? And wouldn't improvising become ESSENTIAL to having game?
Before starting a conversation with anyone, we should make a solid "frame" as a foundation that we can game from: something we can refer to at all times, a frame of mind if you will.
This is the true definition of having game, because it will keep us on the right track and help us improve in the right areas. That way our game will have a path, that way we have a direction when we´re trying to get better at meeting & dating women… instead of being all over the place and not knowing what´s the next step.
When I first started "gaming" I didnt know whether to open a conversation sincerly or cocky, direct or indirect. I established that success in the initial phase (the start of a conversation and walking up to a woman) because of my particular frame.
My Own Frame For Having Game
Here´s my frame:
– Long dark hair.
– Rugged facial hair.
– Scar across my cheek.
– Dark completion.
– I'm an intimidating guy (kind of like Scarface):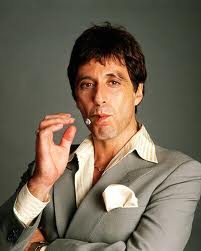 Funny sidenote about the frame for having game: someone asked me if I was a Colombian drug lord once, because of my rugged facial hair, the scar, etc.! So guess what?
If I opened a conversation with a woman all cocky and arrogant I'd get no comfort. People would fear me, be intimidated by me, think I'm dangerous and arrogant, maybe even creepy. I had to calibrate my game that I opened extra enthusiastically, be nice and smile playfully for alot longer. After you build comfort the cocky/funny will come out and create lots of attraction for you.
Now take a look at yourself and be honest! Because your helping yourself here. You'll open much better if your frame is congruent with your personality. Having game starts with who you are, which is what you base your whole frame on…
If your appearance is intimidating like mine? Then you´re gonna have to be a nicer dude man. If your not so visually intimidating, then the cocky/funny high confident, slightly arrogant frame will suit you much better and get you crazy results.
And take Carlos Xuma himself. He's an attractive guy and women know that. Although he loves to play Carlos The Menace, at first he is welcoming, open, talkative and everything but arrogant. Why? Otherwise he scares women away because they'll see him as "a good-looking guy who knows it and abuses his looks!"
All You Need To Know About Having Game Is This…
• Get feedback on your look from as much women and men as possible (what was their first impression?)
• Calibrate your frame to suit your look: tailor what you say to who you are, not the other way around (see above for example)
• Start a conversation like your frame requires you to do: physically intimidating? Start building comfort… but with "regular guy looks"? Go for playful teasing.
• Watch how you get more and more results when you let your "game" complement who you are.
I'd like to end this column about having game and attracting women your way with some funny images about what NOT to do…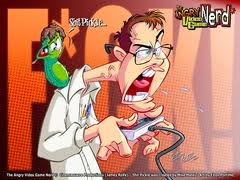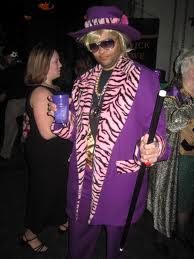 And remember: always choose to fight! Fight for your success. Hope you liked my thoughts on having game.
Regards,
RockyJJP
P.S. Want more free tips about what I\\'ve talked about today? About raising your confidence through the roof, meeting girls anywhere & anytime, creating raw sexual attraction, and more? Make sure you get your secrets, ebooks, and email updates by signing up for my newsletter below NOW. Remember, it only takes 60 seconds to get more strategies and stealth sexual tactics, so do it. Sign up below.
Free Audiobook MP3 Download!
7 Ninja Attraction Tactics
- How To Attract Girls With Stealth Strategies
Sneak past her defenses and get the girl - with NO resistance and NO rejection.
LIMITED TIME OFFER: Just enter your email below
and get your 7 Ninja Attraction Tactics Audiobook MP3...



Date Hotter Girls - NOW...

Carlos Xuma
- Win With Women