Brian Tracy's Psychology Of Achievement Review
Hey it's Carlos Xuma here and it's my honor to do a Brian Tracy Psychology of Achievement review today, because Brian Tracy is a freaking legend in my book!
In case you lived in a cave for the last 20 years: Psychology of Achievement is one of self help guru Brian Tracy's best selling books.
In my opinion "spectacular and life changing program for any man in need of improvement" is a much better title, but book is a little shorter and easier to use, wouldn't you agree? Anyways, what's making me do this psychology of achievement review?
Here's the juicy secret: it will PERMANENTLY change the way you think about rejection, failure, success, your potential, negative emotions and a whole lot more.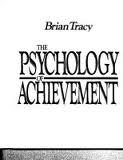 But I'm getting ahead of myself here…
Here's how I approach doing reviews: the impact it had on me personally, compliments, and disappointments. That means I talk about both the good and the bad. So, let's get to it!
The Impact Of Brian Tracy's Psychology Of Achievement
 I'm a down to earth, practical dude… so I'm not feeling hippie weirdos, flower power, overly spiritual nonsense and people that are kinda "out there". As a result, I'm skeptical about self help cliches such as "just believe in yourself" and that kind of crap.
But to be honest? The book made me feel like my life was a slice of heaven for an entire week. I'm not kidding: nothing could ruin my mood, everyone was my friend, no negative emotions at all because it was just so damn inspiring, empowering. It changed my perspective on things.
I've used and am still using a lot of the insights Brian Tracy shares inside to teach my students about the fear of rejection and failure and why they're "just" negative prohibitive behavior patterns as Tracy calls them that can be unprogrammed with some effort.
I highly recommend you read this one.
Compliments For Brian Tracy's Psychology
– The psychology of achievement really drives the point home that you are your own worst enemy, that all kinds of self-defeating behaviors stand between you and getting the results you want (and what to do about it)
– Next to techniques that are a bit "out there" for me like visualization and affirmation, Brian Tracy shows you a nine step, systematic problem/setback/failure solving method that takes the sting out of bad situations and let's you see problems as opportunities
– After discussing the negative emotions and fears that make you defeat yourself, the book details how to program yourself for success using scientifical methods taken from sports, marketing and more instead of throwing the standard hippie stuff like "believe in yourself" at you. This psychology of achievement review likes that!
– Have you ever had one of those days where you fell asleep way too late while you had to get up early in the morning, you set your alarm clock to get up… and when it goes off… it feels like a B*TCHSLAP in the face? Well, this book is just that… but in a good way.
Nothing let's you take a better, closer look at yourself and how you can improve yourself than this book. You'll bust yourself for thinking about what you learned from it WEEKS after reading it.
Disappointments…
– I don't like visualization and affirmation and although they may be tried and tested methods, for most guys that's spacey hippie stuff. They, and me too, need more convincing: more examples and/or proof please! Otherwise it will always remain just that: spacey hippie stuff.
– Towards the end, Brian Tracy talks about superior human relations and part of that discusses relationships and marriages. Although it's a brave effort to analyze them from a scientifical point of view, he forgot one thing: emotion. And oh yeah… attraction is based on it and keeps relationships alive. So I have to give one major thumb down for that one.
– Although the short exercises (well, they're more like questions) will go a long way in helping you change your life? I miss some examples. How would HE answer them? Show us some technique applied in real life. In short: it could be a little more practical
Conclusion About Brian Tracy's Psychology Of Achievement
Although there are some minor flaws inside, the other 90% of the contents in this book will BLOW YOU AWAY. Especially if you do the short exercises that are inside and try to apply as much of the insights as possible to your own life.
Thinking back to when I read the Psychology of Achievement back in 2008 alone motivates me and makes me rise up to the ocassion of reaching my full potential, of wanting to do good in the world.
If remembering that you read a book can do that, then it must be a pretty damn good book. Period.
You should read this one…
I was so inspired by this book that I decided to get in touch with Brian Tracy to see if I can help my fans and customers (that includes YOU) as much as he has helped me… and I've got a surprise for you!
This Is The Surprise…
I (with a little help of Brian) want to GIVE YOU 1 of his 21 self help CDs filled with life changing insights and techniques for FREE!
All you´ll have to pay for is what it costs to ship the CD to your home address… and that´s it.
Although most of the 21 CDs are business-related, there ARE some real good ones about improving your life as well: 21 great ways to get the job you really want, 21 great ways to live to be a 100, 21 great ways to meet and marry the woman of your dreams, and more… 
Simply click on the link below to see two pages containing the CDs, pick a CD, only pay for shipping and handling (which costs only a couple bucks these days), and start getting more results with women AND in other areas of life. 
Get Your Self Help CD For Free!
And hey… please DON'T share this offer with anyone else okay? I just wanted to do something special for my blog readers, fans, and customers… so random guy A that's the best friend of your friend's friend is NOT who this offer is for. 
Keep it kinda secret… or Brian will probably kick my but for giving too much of his stuff away for free.
So far for my psychology of achievement review! Now, as I'm gone to feed on the nearest Pringles can I can find being the Pringles junkie that I am… I'd like to ask you some questions…
1) What did you think of this review?
2) What do you think about Brian Tracy? And what about The Psychology Of Achievement?
To More Dating Success, 
Carlos Xuma
Win With Women
P.S. Want more free tips about what I\\'ve talked about today? About raising your confidence through the roof, meeting girls anywhere & anytime, creating raw sexual attraction, and more? Make sure you get your secrets, ebooks, and email updates by signing up for my newsletter below NOW. Remember, it only takes 60 seconds to get more strategies and stealth sexual tactics, so do it. Sign up below.
Free Audiobook MP3 Download!
7 Ninja Attraction Tactics
- How To Attract Girls With Stealth Strategies
Sneak past her defenses and get the girl - with NO resistance and NO rejection.
LIMITED TIME OFFER: Just enter your email below
and get your 7 Ninja Attraction Tactics Audiobook MP3...



Date Hotter Girls - NOW...

Carlos Xuma
- Win With Women
P.P.S. I sincerely hope you read Brian Tracy's Psychology Of Achievement or AT LEAST another self help book so you can start improving your life and become happier, more confident, and more relaxed just like I did.
Please read my FTC disclosure here